Make Tummy Time Happy Time! Our Inflatable Tummy Time Water Mat helps your little one develop hand-eye coordination, mental agility, and problem-solving skills – all while having fun!
☑️ Stimulates baby development and motor skills!
☑️ Strengthen your baby's muscles!
☑️ Stunning, eye-catching graphics!
☑️ Brings your baby hours of fun!
☑️ 100% leak-proof & safe!
☑️ Take it anywhere you go!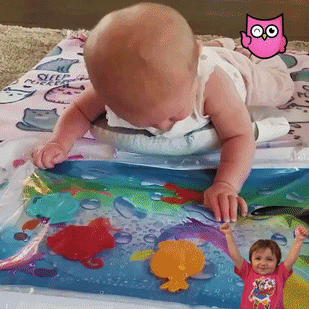 This amazing water mat helps your baby build strength in the neck, back, and shoulder muscles helping them achieve infant developmental milestones.
Get your baby this water mat and put them on the path to discovering the effects of different actions & movements while sharpening their cognitive skills, and discovering the magical world of colors while having fun!
Features
⭐ SENSORY STIMULATION
Give your little one some tummy time while they entertain themselves with our inflatable water mat. Pediatricians highly recommend placing babies on their tummies to play because it helps strengthen their leg and arm muscles to prepare them to crawl. Tummy time toys are a fun way to help your baby meet their developmental milestones.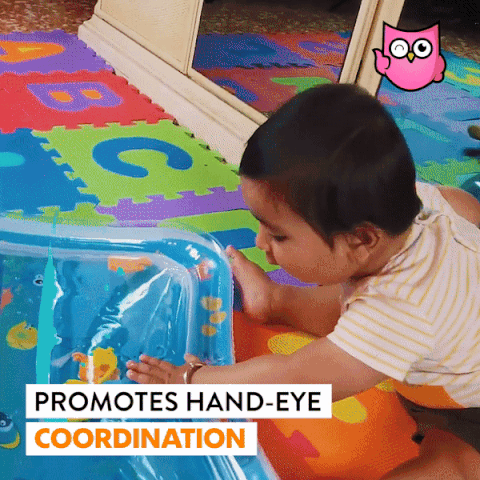 ⭐ MOM APPROVED DESIGN
You can get the mat ready in a matter of minutes! Simply inflate it, fill with water, and your baby is ready for tactile and visual fun. The bright and colorful foam toys move around in the water, stimulating your baby's hand-eye coordination while encouraging them to lift up on their arms to catch the floating sea animals.
⭐ DURABLE & LEAK-FREE
Our sensory tummy time water mat is constructed from eco-friendly heavy-duty PVC, which is 100% leak-free, providing you with a mess-free fun way to entertain your baby. Plus, it's sturdy enough to pass the test of time! The water-filled tummy time mat is approved for children 3 months and up.
⭐ PERFECT BABY SHOWER GIFT
Surprise new mothers with this amazing water mat for baby showers and offer them the chance to spend endless hours of joy watching their newborn have a blast! This unisex water play mat for toddlers will be much appreciated by parents because it helps them include some light exercise routine into the baby's day. 
Specifications:
Color: Blue
Size: 66 * 50cm / 26 * 19.7in
Material: Eco-Friendly PVC
What you get:
One [1] Tummy Time Water Mat